Moglice Forms Micron-Exact …
… any type of slideway for new production or overhaul. It can be puttied, poured or injected and is the essentially price worthier than any conventional system.
The result is:
• 1:1 correct to the micron with high wear resistance
• easily coated with perfect long term adhesion (>45 years of experience)
• best damping properties = improvement of stiffness
• scatter-free start = optimized Anti Stick-Slip behavior
Fields of Application:
• Round bushings
• slide bearings of any kind in large machine tools
• hydraulic pistons
• keyways
• column ways
• carriage slideways
• tooth racks
• ram guides
• hydrostatic guides
• support guideways
• aerostatic bearings
• deep hole bushings
• and many more guideways
DIAMANT moglice enables dynamic elements, e.g. slideways to run easily, protects from wear & tear and lowers buying as well as running costs. High wear resistance and improved stiffness are just 2 highlights of DIAMANT moglice.
Metal, what else do you need?
DIAMANT moglice does not change its Anti-Stick-Slip properties even under unfavourable conditions such as inadequate lubrication or high loads. When used on cast iron the friction value at rest, for example, is only about 1/7 of the conventional cast iron/steel pairing.
Survey of further benefits:
• applicable in place without special knowledge,
• high dimensional stability, shrinkless cure (hardly measurable)
with best precision
• optimum adhesion (individual coatings),
• wear proof even after decades
(since 1963 in hard industrial usage)
• easily moulded or injected.
Ready! – after cure.
• rational & rapid,
with high long term results.
There is always an exact moulding from the precision ground bred- counterways after alignment.
The Consequences:
Excellent running properties, free of Stick-Slip with high stability and hardly measurable wear.
DIAMANT Moglice has been used Worldwide …
by leading machine makers, machine tool builders with the
• putty moulding method
• injection method
• for new and new way constructions and overhauls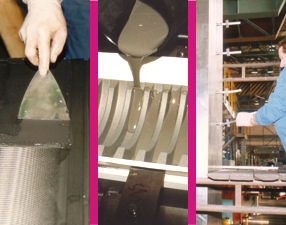 ScorEx is a special formulation based on the
moglice mouldable low friction wayliner product series.

Moglice wayliners have been the preferred choice to produce and rebuild slideways of any kind for over 3 decades. ScorEx has excellent sliding properties (approx. 0.05 ym), high dimensional stability, chemical resistance against lubricants, coolants, environmental influences and dampening properties improving the stiffness of the coated elements as such as emergency dry running properties.
Moglice wayliners are recommended by the majority of European, US-American and Asian machine tool makers and rebuilders for the production and maintenance of slideways of any type.
ScorEx is a fast setting moglice speciality to repair smaller defects in slide-ways like scores, cracks, holes etc.
Preparation:
Roughen adhesion areas, clean e.g. with acetone.
Processing:
Fill mixing cup ¼ with ScorEx Hardener Liquid, then add double amount of ScorEx Powder for a pourable viscosity or more Powder for a putty viscosity. Apply by spatula, fill from one end avoiding air entrapments, overfill a bit to machine down after cure. Scrape in (grind) gently after cure.
Pot life
Approx. 15 minutes
Cure time
Approx. 45 minutes (at 20°C/68°F)
ScorEx is available in a complete ready-to-use- 400g box with powder, hardner liquid, spatula and protective gloves.